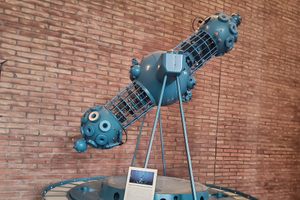 Learning about astronomy is often done in close collaboration with scientists, where modern knowledge of the universe is made accessible via displays and planetarium shows. However, there are few places where the connection is as close as that of the Porto Planetarium.
The construction of the building was led by the then-director of the astronomical department Professor Teresa Lago, and opened in 1998. The building is a mixture between the university's astronomical faculty and a large open space dedicated to astronomical outreach, with a massive planetarium at its center that can hold nearly 100 people. 
In its early days, this planetarium was a mechanical Zeiss model, but it was replaced by a modern system in 2015. The strength of the visitor's center is its connection to the astronomy department, as this allows for state-of-the-art results and observations to be displayed to the public in meaningful ways.